You may have noticed that the filescan block looks a bit different in your Moodle course this semester. Well, that's because it is! This summer we've been hard at work rewriting the filescan block to harder, better, faster and stronger.
Meet the Accessibility Filescan block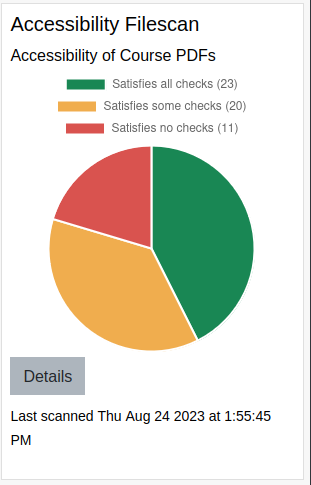 The Moodle Accessibility Filescan block gathers up all of your course PDFs, and runs accessibility checks on each one. It will check each file for the presence of a language setting, OCR'd text, title, and proper structure. All these attributes are required for a fully accessible PDF file.
You can find it in the "block drawer" on the right hand side of your Moodle course. If the blocks are hidden, open them with the < icon.
Details, Details, Details
Along with the block comes the details view. Here, you can view specific details about how each of your course PDFs tested against our accessibility tests. You can even download the contents of the table to a CSV.

Taking Action
If your course contains PDF files that are not accessible, see our Accessibility File Scan help page for information on how to fix the files.