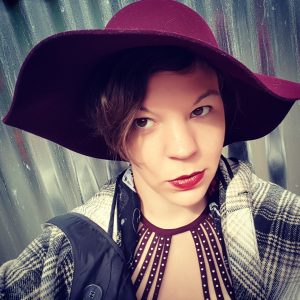 The "Who Is That?" series gives you a peek at the people behind (some of) the machines here on campus.  We ask folks in the office a variety of tough questions, some of which they answer.
Wrapping up: From our last post with Joel Cooper, CITO, he lied to us about being an ice fisherman.
We sit down today to chat with Jess Stockett (JS).
Interviewer (I): Ok, so is it "Jessica" or "Jess?"
JS: Or "Jessie?" I don't usually mind any of those options, but most people call me "Jess."
I: I hadn't even thought of calling you Jessie, but after looking it up, I found that maybe I should have asked about "Jesse" or "Jessa" as well.
I: What is your title here at Swarthmore and when did you start?
JS: Technical Support Coordinator — and I started in May, 2016.
I: Do you feel as though your title matches the work you do?
JS: Well, I coordinate in-person tech support (and training), so yup!
I: Well since that one was so easy for you, let's see how you fare with explaining your job using only haiku (5 syllables, 7 syllables, 5 syllables):
JS: I do the training
For various stuff and things
Like the Google Apps
I: I'm going to give you a semi-judgmental free pass on "various stuff and things" for the sake of correct syllabic structure, but I'm guessing that I speak for the rest of the department in asking you not to refer to them as "The Google" anymore.
JS: I wasn't referring to them as "The Google," I was referring to the group of apps that Google releases.
I: I see.  Just so you know, your lack of capitalization of "the" in the final stanza may accurately represent your intent when written but may misrepresent you when spoken.
JS: …
I: Just sayin', that's how I heard it.  The Writing Center may have different thoughts.
I: Sorry for the tangent.  Your job requires you to be well-rounded. What experiences do you think shaped that?
JS: I was always the go-to girl for tech questions, whether from my family or in previous jobs (even if they weren't tech jobs), so I had to learn how to fix a lot of problems on the fly. From party linen to property management — I've worked with a lot of different programs and technology. I've always been interested in technology, though, so it was mostly fun for me.
I: iPhone or Android or ???
JS: Android, but I was an iPhone user first…
I: Why?
JS: I just really liked how much better the Android was at letting you modify it to your liking — from apps to themes to colors to fonts. Plus, I've always been a big Google user, so having an Android with all the built-in Google Apps is nice.
I: Did you mean "having an Android with all the built-in The Google Apps is nice?"
JS: No.
I: I'm told you have an office mascot. What is it?
JS: Peipei, the Peacock Mantis Shrimp! Currently, Paypay lives on my desk as a stuffed crustacean, but more Peacock Mantis Shrimp memorabilia will be added in Peipay's honor.
I: I noticed you spelled Peipei/Paypay/Peipay's name different ways each time.  What's up with that?
JS: You'll have to come and ask Peipei/Paypay/Peipay.
I: I sit with you.
JS: Why is this so contentious?
I: Why are you so passionate about the peacock mantis shrimp?
JS: I found an incredible (and funny) webcomic that described what they were, and they became incredibly fascinating to me. They get their name because they are colorful like a peacock but have club-like arms like a praying mantis. They punch so hard that they instantly boil the water around them (called supercavitation)! They can't be kept in most (if any) aquariums because they can break aquarium glass! It's just amazing to me that a creature like that can exist, but a lot of people don't know anything about them.
I: Please list two truths and a lie (not necessarily in that order!) — we'll reveal the answer on the next blog post.
JS:
At one point in college my hair was dyed pink
I "adopted" a wolf from the PA Wolf Sanctuary
I have two tabby cats, whose full names are Mistletoe and Dasher
I: Could you share a story about what you enjoy most about your job here?
JS: I don't know if I have a specific story, but what I enjoy most about my job here is the people. Both the people I work with and the community members I interact with through the training sessions I've done. I've gotten to meet a lot of really great people! And it's nice to get stopped and hear about how a session I led helped someone learn something new, or even just improve on something they already knew to make their workday easier.
I: What type of projects are most exciting to you?
JS: I really like doing interactive training sessions. I try to make all of my sessions interactive in some way, so everyone can follow along and try things out on their own. I get a much better insight on how everyone uses various programs and apps — plus, we can have some fun with it, too.
I: How do you like to spend your time outside of Swarthmore?
JS: I am a really big soccer fan, so I spend a lot of time trying to keep up with the various leagues. You can most likely find me cheering on the Philadelphia Union during the MLS season (and usually during their preseason, too). Otherwise, I like to get out and explore with friends — especially if it looks haunted.