Please join ITS in welcoming Daniel Berlin to our staff. Dan is our new media center associate. Dan is tasked with keeping the Beardsley Media Center in good working order and supporting the faculty, staff, and students who are working on video, audio, imaging, and printing projects in the Center.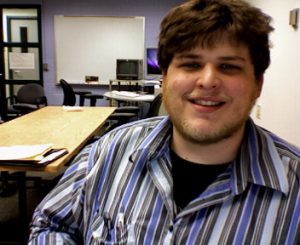 Dan graduated from University of The Arts, College of Media and Communication in Philadelphia with a BFA in Writing for Film and Television. In addition to his work in the Beardsley Media Center, Dan freelances as a videographer, editor, stagehand, boom operator, and all-round A/V specialist.
Stop by the Beardsley Media Center (Beardsley 114) to print, scan, or edit video. The Media Center is now open 9 AM to 9 PM, Monday through Thursday during the academic term. Dan will be on hand in the Media Center from 2pm-9pm, Monday through Thursday to help you with your projects. At other times, members of the Academic Computing and Media Services teams (Doug Willen, Eric Behrens, Michael Patterson, Mike Bednarz, and David Neal) are happy to help you with your work in the Center.