BALTIMORE, Md. --  Johns Hopkins' Paulina Goodman broke up a scoreless Centennial Conference women's soccer match in the 76th minute, sending the hometown Blue Jays to a 1-0 victory over Swarthmore on a wet Saturday afternoon at Homewood Field.
Better to have flippers than cleats on this rainy day in the old port city, the turf at Homewood Field washed in another bitter-tasting memory to the Garnet soccer team.   That memory is etched now as the Rain Game.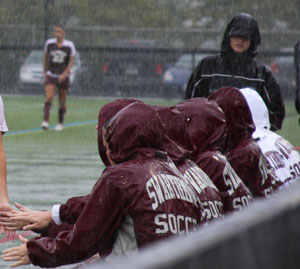 All of the moisture from the tropics ended up billowing into Baltimore Saturday afternoon, making possession and passing two adventures aboard one see-sawing ship.  The Swarthmore chose to fight through the elements, implementing strong possession into various scoring opportunities.  The Blue Jays (6-0-2) opted for the long serves and home run-hitting style, looking for one bounce to result in offense.
Despite both teams soaking in the elements, play crested at the high-water mark anticipated in the high-profile mix-up between Centennial playoff teams.  For the third year, Hopkins converted its opportunity to produce a 1-0 win. (fourth time in seven seasons).  Goodman found the only crack in the armor of Garnet goalie Lauren Walker (Fallston, Md. / The Hotchkiss School [CT]), she of six saves while wearing water-logged gloves, with her second goal of the season.
For Swarthmore, the match ends one of the tougher schedules for September in all of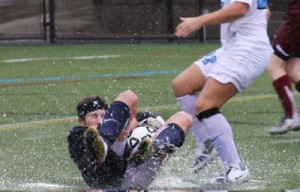 Division III.  Six of the seven Garnet opponents so far this year made the NCAA Tournament last season and Swarthmore posted five wins over that span.
October looks to hold more success for the Garnet women—five of the eight matches are at Clothier Field, providing the spring board for a strong run at the Conference championship.
Centennial foe Washington awaits the Garnet side, setting up a prime-time event on Wednesday, Oct. 1.  The soccer match kicks off at 8:00 p.m., bookending the doubleheader with the mens' programs. (a 5:30 p.m. start).