Easily transportable audio recording devices have been a staple of Media Services equipment rentals for years. Now , with the addition of some new accessories, Swarthmore College community members can take the studio environment on location as well. Our new modular sound booth from Auralex is lightweight, and can be easily constructed in almost any space. This sound booth is ideal for recording voice-overs, but could easily be used for recording instrumentation as well. Meanwhile, our new industry-standard microphone from Electro Voice will capture the now isolated track with clarity and precision.
If you have questions or would like to schedule a recording session, contact Media Services atavbox@swarthmore.edu or by phone at 610-957-6201
The Sound Booth
The MAX-Wall system from Auralex is a modular, interlocking acoustic treatment solution for those who don't want, or aren't allowed, to mount anything on their walls. Additionally the system is useful for the facility that serves a variety of acoustical purposes and needs to reconfigure areas. Any combination can be set-up in minutes with no tools, no adhesive and no fuss.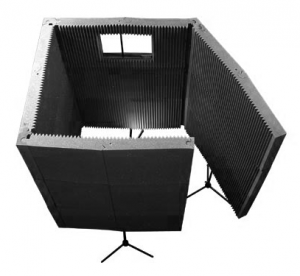 The MAX-Wall is very absorptive, even at low frequencies, offers great broadband absorption and is incredibly linear, with an overall NRC of 1.05. The panels are also thick enough to yield a pretty high degree of sound containment, so they can be used to set up a temporary isolation booth.
The Microphone
A broadcast industry standard, the Electro-Voice RE20 is a cardioid dynamic microphone that delivers reliable, low-noise performance with exceptional clarity and definition.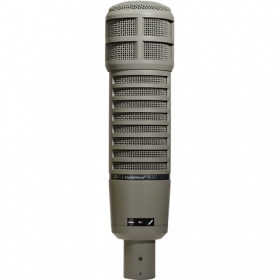 Supercardioid Pattern
The RE 20 features a supercardioid polar pattern which is extremely effective in isolating sound sources while reducing background noise
Internal Windscreen
An internal blast and wind filter eliminates "pop" and wind noise at the closest proximity
Bass Tilt Down Switch
The "bass tilt down" switch corrects spectrum balance for use in long reach situations and eliminates low frequency noise and rumble