Today, I started out the COP by attending the YOUNGO meeting and then heading over to a press conference held with the Prime Minister of Tuvalu, Enele Sopoaga because I wanted to get the live opinions on the negotiations from a Head of State. Tuvalu is one of the Small Island Developing States (SIDS) that has a population of just over 10,000 people and around 10 sq miles of land area. It is also especially susceptible to changes in sea level as well as storms and typhoons because of its low lying land-mass (just 15 ft above sea level) and a major concern is that sea level rises will cause Tuvalu to become inhabitable and potentially even force relocation of its citizens in the coming decades. With this background in mind, I settled into a seat near the front and pulled out the camera to record what I anticipated to be an thought-provoking speech. I was not disappointed, and there were a lot of memorable statements to be recounted.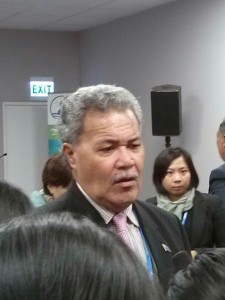 After making a round of introductions to other dignitaries in the room, Enele got straight to the point. "Tuvalu is suffering." He reiterated that a 1.5 degree Celsius cap was essential for the survival of the islands. He then pushed onto the negotiations, citing his support for a legally binding agreement to come out of the COP and sticking a point in to the Loss and Damages discussion about how if framed properly there would be a wider agreement between parties on this matter. "This is not about loss and damages, this is about survival." was Enele's reply and an adequate one I think for the PM of an island nation.  He then moved on to discussing how he felt things were moving along at the negotiating table, and this next statement sums things up quite adequately. "The process has been very slow, very (un)transparent, and there's a lot of twists and turns that small nations like Tuvalu cannot follow because of logistics. And that defines a very unjust process already."  This was followed by an even stronger statement about the impacts of political foot-dragging, "There is always a tactic of delaying until the last minute, and then being dumped upon, by something that is totally weak and is not worth the paper it is written on as we saw in Copenhagen." Bang, no beating around the bush. Enele continued on, asking other parties not to utilize this as a tactic even citing the US as a culprit in dragging down negotiations and appealing directly to COP Presidency followed by another call, specifically to the leadership of the EU (Germany and the Netherlands in particular). for a legally binding solution and cooperation on loss and damages.
He then voiced his  desire for mechanisms that include regular and consistent reviews of the actions of their parties to meet their INDCs and mentioned Tuvalu's impressive commitment to switch to 100% renewable energy by 2020. He then alluded to the Kyoto Protocol as a cautionary tale for the Paris agreement, finishing up this portion of his speech with another call to not hit a dead-end like in Copenhagen.
Finally, Enele switched gears to talk about financial mechanisms and their impact (or rather lack of impact on Tuvalu). Labeling the current situation as "unforunate" the Prime Minister described the inability of low-resource SIDS such as Tuvalu to submit sound, and scientifically justified proposals to obtain funding through UN sources such as the Green Climate Fund. "Bureaucracy is taking over. Not the parties. The parties that need resources such as the Green Climate Fund are being neglected." He followed with a call for parties to do away with such "conditionalities" and to consider the vulnerability of nations rather than the quality of their proposals. Lastly, Enele used the CDM as an example to make a pitch for renewable sources of funding to be added to the current financing mechanisms so that money is not simply being siphoned off to the abyss of climate financing and that Least Developed Countries (LDCs) who have contributed the least to climate change are not continually being forced to finance their own adaptation which he labelled as a final "great injustice".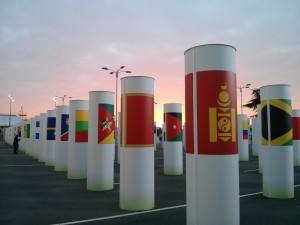 It was hard to hear from Enele that the talks were still too slow to keep up with the demands of SIDS, but his talk inspired some hope in me. If a country as small as Tuvalu can put forth so much effort to push for change and still keep up hope despite being completely disadvantaged, it stands to reason that the US should have no reason to drag its feet. As a representative from a large, well-funded, and well-equipped delegation, this talk made me rethink my perspective on what needs to happen here at Paris. Having an SIDS perspective was really invaluable, and it is really important to keep these vulnerable countries in mind moving forward. Their voices matter too.