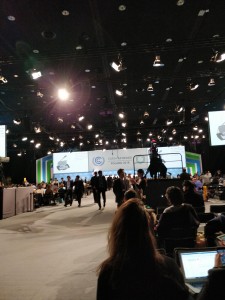 So the conference of parties was supposed to end yesterday with the final plenary starting at 3pm local time. But, as usual, the last session has been drawn out past the initially scheduled time. It was postponed to 6pm then 12am then 4am and currently its 8pm on Saturday with no word of when the plenary will start. I have heard rumors that it may be postponed until tomorrow. In the meantime, the COP Presidency has convened bilaterals between parties to try to work out their differences. The main sticking point I have heard have to do with Article 6 which Brazil is blocking. Article 6 discusses how market-based mechanisms can be used to combat climate change and contribute to parties' achieving their NDCs. It is now up to the ministers, who have arrived in the last two days, to work out these issues. Many delegates have already left the venue as this is out of their hands.
Unfortunately, if nothing happens within the hour, I may be forced to follow suit and depart the venue without a conclusion to COP24, at least not the best outcome hoped. There will still be a rulebook with some parts incomplete. These incomplete parts have to go through further committees and sessions before the can be incorporated into the rule book which will not be activated until 2020. A source following transparency and NDC implementation told me that they were happy with the outcome of Katowice. A lot has been achieved. But obviously, there is still work to be done before 2020. Chile you're next!
Correction: According to some YUNGO sources, the Brazil issue has been resolved but now there is a Turkey issue which has yet to be clarified to me.