The irony did not elude me that I spent International Human Rights Day at a UN event, witnessing the UN attempting to curtail the very same rights it adopted 70 years ago. Last week, it was the ECO newsletter, while this week, it was the Fossil of the Day Award, both of which were prohibited but later reinstated. I'll focus this post on Fossil since I have been part of the team of volunteers putting on the event each night. Fossil of the Day takes place at the end of each day at COP, and select countries (and some terrible organizations) are presented with the ignominious award for being "the best at being the worst" at the UN Climate Talks. Through a very participatory process, members of CAN (the organizers of Fossil), nominate and vote for members based on which country stands out for their atrocious climate policies or for actions such as "blocking" negotiations. Alongside Fossil of the Day, a Ray of the Day is also awarded to recognize the efforts of climate champions.
To put the impact of Fossil into perspective, last night we awarded Japan with a Fossil of the Day, and already multiple news outlets have now covered how Japan's "environment minister failed to commit to the phasing out of coal-fired power generation in a speech at a UN climate conference." Also, the other day, as we were setting up the stage for the award ceremony, a man came over and asked what Fossil is and why Belgium's flag was on the Fossil leader board (a running tally of all the Fossil winners over the course of this COP). Once my colleague explained the award and said the full explanation of why Belgium won is available on the Fossil Facebook page, the curious man explained that he's from Belgium and shocked to see Belgium on the list. At this point, I noticed his pink badge, which means he's a part of the government delegation. I saw the man type notes on his phone before walking away. Hopefully, the Belgian man will look into why CAN awarded his government the Fossil Award, relay the information back to his delegation, and then try harder to advocate for stronger climate policies.
No one, and governments especially like to be named and shamed, which is precisely what makes the Fossil award an effective advocacy tool. It's also easy to understand why, after a long day of dense negotiations and plenary sessions, a crowd of delegates and media gather each night at the Fossil award ceremony. Though it has a serious message, Fossil is a fun and engaging event with costumes, props, and even a theme song for the daily ceremony. Delegates can enjoy the light-hearted and engaging nature of the event, while media is also on hand to capture the novelty and satire that is used to call out insufficient or outright troubling climate policies. Though some countries try to fly under the radar, Fossil of the Day is a reminder for these states that their actions will come under scrutiny!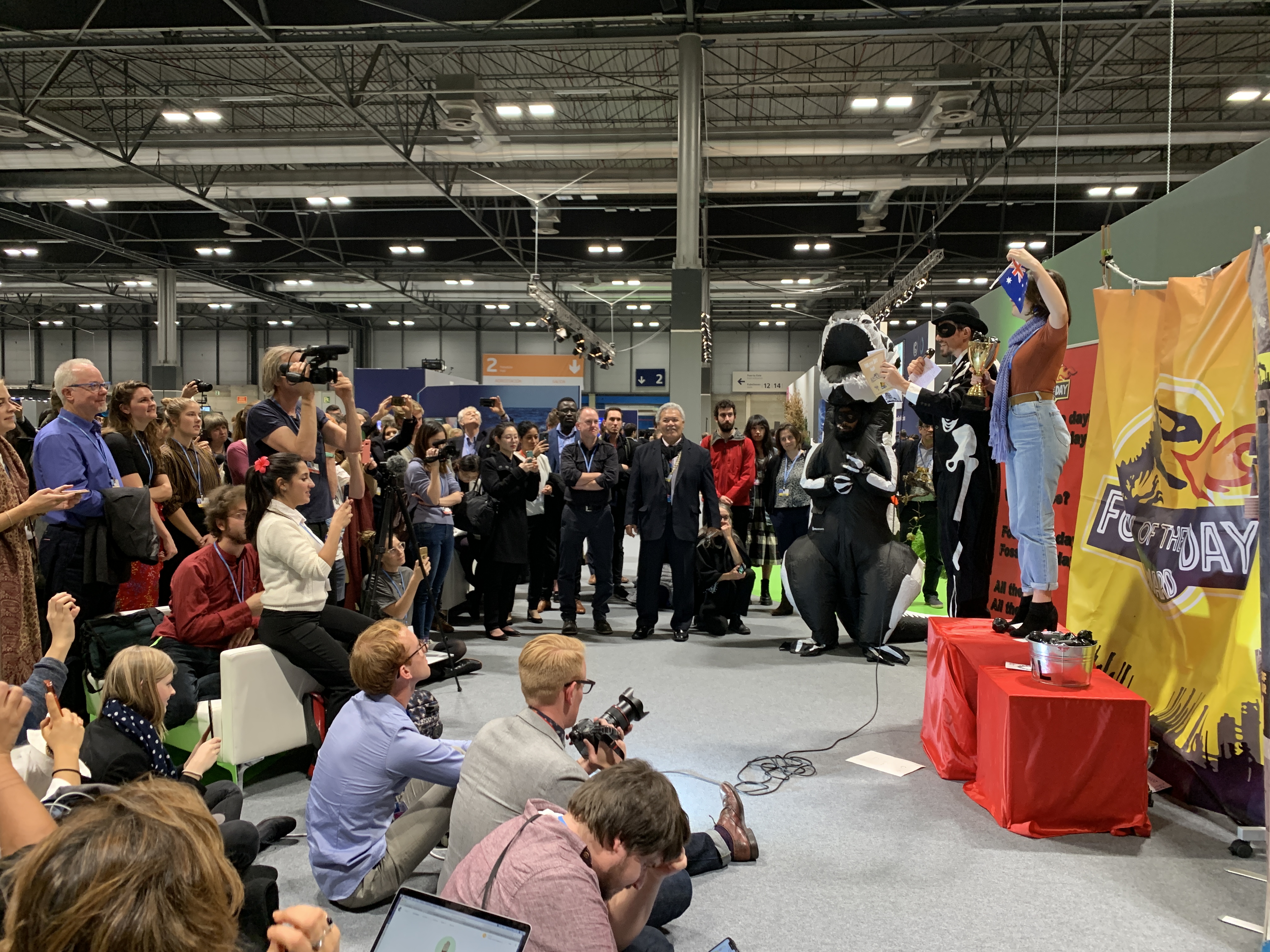 So now that you're hopefully convinced that Fossil of the Day is a great event, we can return to my original point about the clampdown on civil society space. On Wednesday, we were told in the morning the award could not go ahead because "it is the start of ministerial day, they have no "security capacity" to cover Fossil of the Day. So they [UNFCCC Secretariat] did not authorize this key daily action today. We tried to push back but we had no success."
The attempt to stop Fossil was neither the first nor the last time civil society space had come under attack during COP25. Last week, ECO was banned from being distributed at the conference venue. ECO is a daily newsletter put together by civil society to inform all delegates at COP about the developments with negotiations and other informative updates from various NGOs. Without warning or any wrongdoing on the side of ECO distributors (who are just volunteers handing out information), security removed the volunteers and banned the newsletter's distribution at the conference venue. Fortunately, with support from delegates and coordinated push back from CAN, the UNFCCC Secretariat relented. By the time I arrived for Week 2 of COP, I was able to get my daily dose of ECO!
Given what had just happened to ECO, it's easy to understand why members of CAN did not want to relent and were suspicious of the UN's motive in not allowing Fossil to take place. Firstly, this excuse is quite suspect since there is so many security personnel available and especially since few other events are also happening at 6pm that requires manpower. Moreover, Fossil is a daily event and not a protest, it was not like many security guards were even needed for this orderly and predictable event in the first place. It seemed far more plausible that the lack of security was only a cover story for banning an event that was effective in calling out the bad behavior of governments. The CAN organizers negotiating with the UNFCCC Secretariat that the Fossil award would go ahead regardless of their authorization because it never posed a security threat (we would even have volunteers to help with crowd control if security was the "real" concern. There was even a suggestion to nominate UNFCCC for a Fossil because of this attempt to stop Fossil of the Day.
Over the course of the day (Human Rights Day no less!), the discussion was that the Fossil award should still happen even with the risk of "de-badging." Without authorization to carry out this action, if we went ahead with the event we risked being "de-badged," which means being banned from attending the rest of COP25. The hope was that if Fossil volunteers really do get removed from the premise, then this was more evidence to be used in the media to call out the UNFCCC for the shrinking civil society space. One of the Fossil organizers was kind enough to explain this risk to me and said I didn't need to feel pressured to participate because she knew I was a student and didn't want me to get in trouble with my school delegation.
At this point, I really did consider the consequences of whether I should take part in the fossil award that day. On the one hand, I thought that on the off chance I did get de-badged, hopefully, Swarthmore would be understanding. As a double major in Political Science, Peace and Conflict Studies, could Swarthmore really expect that I wouldn't stand up for what I believe in? On the other hand, I would feel guilty if I could not attend the rest of COP25 because I know many other students also applied to be on the delegation, so I'd feel like I took someone else's spot then did not even make the most of this opportunity. I could argue that attending sessions is the only way to "get" something from attending COP because I think a lot of learning can also happen by encountering and understanding more about inherent power structures and barriers faced by civil society, I'll touch on this point further in a future post.
For better or worse, I was truly saved by the bell and didn't need to be decisive in this moral quandary. As my colleague was still in the middle of discussing the de-badging risk with me, at 5:29pm (so only 1 minute before our daily set up time of 5:30pm), we received the breaking news in our team WhatsApp group chat that the UNFCCC Secretariat backed down and authorized our event! Luckily, all the hard work of the CAN team negotiating with the Secretariat about the matter had paid off.
Despite the ultimate win for ECO and Fossil, this pressure on civil society is a worrying trend because civil society is so crucial for holding parties accountable. Also, let's not forget that there is already a massive power imbalance at COP. Civil society, as observers at COP, have less political clout than countries who can directly vote as member states in this state-led UN process. Civil society also has less financial resources than businesses. When highlighting the fact that businesses had their logos on massive banners around the venue. In contrast, our Fossil of the Day backdrop was only a small makeshift display, the Fossil award host joked that we "shouldn't buy the corporate greenwash unless we recycle it together." So given the extra institutional and financial constraints compared to governments and businesses, civil society's power is in having the voice that transmits beyond such barriers.
The ban on ECO led to the use of slogans on Twitter, such as "Not just Time for Action but also Space for Action," a play on the motto of this year's COP, and I could not agree more. Also, as our school's Quaker values continuously reinforce, it is so important to "speak truth to power." Being a part of the fantastic Fossil of the Day team has definitely been a highlight of COP25. It could not have been more apt, when at the end of the Fossil Award on Human Rights Day, someone from the crowd shouted, "Long live civil society!"