Madrid was misty and cool when we landed in the morning and made our way to the Airbnb in Embajadores. Although I was pretty tired from the flight, I wanted to take full advantage of the time here, so I decided to attend a training event that was happening in the city, hosted by Climate Action Network (CAN). As a refresher, or for first time readers, CAN is a non-profit that connects and provides resources to different environmental advocacy organizations around the world. Each country in CAN has its own domestic network, led by nodes, who are specific people that report back to the larger international CAN structure.
They were going to host an advocacy training on how to contact your country's Minister and stay in touch with them after COP, which sounded great but unfortunately didn't happen because of low attendance. Instead, the two other people and I were invited up to one of the first meetings of CAN's newest working group: the Grassroots WG.
It was a round table meeting, and almost everyone at the meeting was either CAN node or a leader of a CAN member organization, which was a bit intimidating at first. But it didn't need to be, because even though perhaps to the other attendees I didn't have any apparent reason to be there, I was very welcomed and found the ensuing conversation interesting. The most interesting part was how there were so many different perspectives on what grassroots organizations looked like, and how much going around and around a topic it took to really get to a consensus, even in a group of mostly like-minded people. There was also a relatively diverse range of countries and regions represented by their nodes or org. leaders: New Zealand, Australia, Europe, Zimbabwe, U.S., Malaysia, South East Asia, East Africa. It seemed like one main goal for the grassroots group was connecting community-based organization engaging in climate action to a political platform, where their experiences and knowledge could be amplified but also where they could connect to policy makers, influence policy and receive greater support and resources, both financial and educational, for their efforts. I wish I could write about this forever and ever, but for your sake, I'll cut it short. If you want to hear more about this I can email you separately, just let me know!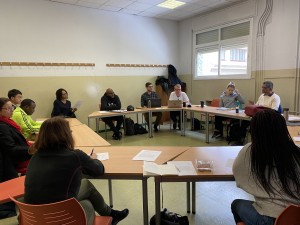 After the meeting I sat down with one of the nodes to try to learn some more about CAN. He is the node for Southeast Asia CAN, a really kind person and genuinely interested in what I was doing and why I was at COP. When I said that I'm here following the agriculture negotiations and researching how NGOs, youth and activists reach policymakers at COP, and whether it's effective, he said that CAN would be a perfect case study for that. He also said he would be happy to get me into their closed (member-only) daily meetings and introduce me to the person heading the CAN agriculture working group. Although I'd already been in touch with the YOUNGO Agriculture working group for a while and am aiming to work with them during COP, I think that it would be great to also look at what CAN is doing this week (and beyond) as well.
The 6-hour CAN Strategy session was happening next, in the same building, so I stayed on for the beginning of it. That's where all present members of CAN get together and plan their actions and tasks for the rest of the conference. It was in this huge, gorgeous chapel, which you can see in the photo. The meeting started off with some announcements from the CAN board; updates about their budgeting and their HR department, new hires and how they are trying to implement a more equitable hiring process. Next there was a presentation on current events; grounding the meeting in current news: climate-related disasters such as the typhoon in the Philippines, climate protests in Iran with extreme government crackdown, Chile's hosting of an alternate climate meeting, the Trump impeachment, and recent commitment of fossil fuel companies to become carbon neutral by 2050.
Then there was a brief but very helpful overview of the main negotiation outcomes of last week. They talked about Article 6, which Jen blogged about earlier. Essentially it is the part of the Paris Agreement that deals with carbon trading, putting a price on carbon credits on the international market. The goal with this is to have the countries that are causing the most carbon pollution purchase credits from the countries with less carbon debt, funneling money into countries that need it more and beginning to shift the power imbalance (sounds a bit idealistic, no?). However, many CAN members who spoke up were worried about how the language being currently used (as of week 1) for Article 6 does not ensure clear standards for how carbon trading happens or uphold human rights, especially indigenous rights throughout the process. The negotiations from Week 1, both on Article 6 and the Warsaw International Mechanism on loss & damage were inconclusive, probably leading to the sure signs of pessimism in the people in the room. One telling quote: "But what they're agreeing to is basically no standards… no human rights, so why bother legitimizing that? …. So many of us are now going, this is going to put a massive hole right in the middle of the Paris Agreement… undermining what we're trying to do… we cannot celebrate the Paris Agreement being about emissions if we have this huge terrible Article 6 carbon market thing. So maybe we're coming to the perspective that no deal is better than a bad deal."
Throughout this time, there had been two presenters (one on the world news and one on the COP news) and many people from the audience who had passionately opened dialogues, posed questions, presented comments. This was all very stimulating and informative to witness, and I was frantically taking notes the entire time sometimes writing down ideas or words I've never heard of and other times feeling intensely reminded of the gravity of the reasons that we were there. The structure of the next part of the event was a panel of representatives from five "countries to watch" in the coming week. There were four men, representing the EU, Chile, Brazil, and India, and one woman who represented all "vulnerable countries." Here are some updates from each of the countries/regions/groups:
EU: there's a lack in cohesion in stance among EU's nation states. The EU has had bad experiences with carbon pricing, in which it messed up their energy markets, so they won't be supportive of Article 6. EU refuses to accept new language into L&D negotiations; they just want to make it a general issue (see Allie's posts for more on that!)… also, said that the EU wants people to see the issue of climate finance as a glass half full, not half empty: in other words, be grateful for what we're already giving… (wow)
India: This one had more jargon so I had some trouble understanding representative's exact position on the negotiations. But he did mention that a lot of people don't know that India is made up of five large states, two of which are some of the largest producers of coal. Despite this it seems that India is leading in its efforts to complete its Sustainable Development Goals (SDGs).
Brazil: There was a lot of talk about the deforestation going on in Brazil. Many people held a space for mourning the lives of two indigenous forest protectors who were shot in Brazil, just the day before: (read more about this). Despite a president who is actively against indigenous rights, the Brazilian Minister of Justice came into COP with the goal of raising $10 billion to fund forest protection.
Vulnerable Countries: The representative started off singing the song that goes "I can't get no satisfaction…" saying that this is how it is for the more than 50 least developed countries and small island nations that she is talking about. They are the ones that have been asking for the new amendments to the Warsaw Mechanism… they are the ones that have been advocating for capping GHG in Article 6… and their leadership are starting to get tired of being the ones who are always doing the real homework. There's a lack of capacity in LDC and small island governments, and they are getting tired.
I'll be back tomorrow with more news on Agriculture negotiations, on the ground work with YOUNGO and CAN, and what new things I can glean about Article 6.