INDIANAPOLIS - Swarthmore College senior Caitlin Mullarkey has been selected as the Centennial Conference's  representative for the NCAA Woman of the Year award. Mullarkey is one of 132 women to be nominated for the award, with selections coming from all three NCAA divisions and multiple sports.
The NCAA Woman of the Year Award honors senior women student-athletes who have excelled in the areas of academic achievement, athletics, service and leadership. The winner will be announced on October 18 in Indianapolis.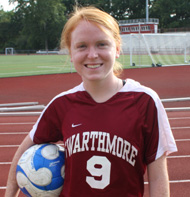 Mullarkey becomes the first Swarthmore athlete to represent the Centennial Conference in the Woman of the Year contest and only the second Swarthmore athlete to be honored; Kristen English '01 was the Pennsylvania representative and national finalist in 2001.
A senior honors biology major who graduated from the College in May, Mullarkey (Wilmington, Del. / Ursuline Academy) has a received a host of accolades for her work in the classroom and on the field. In November, she became one of just 32 American students and the 30th Swarthmore student to win a coveted Rhodes Scholarship. A six-time Philadelphia Inquirer Academic All-Star and eight-time Centennial Conference Academic Honor Roll selection, she was named to the 2008-09 ESPN the Magazine Academic All-American Third Team with a 3.86 cumulative GPA.
On the track, Mullarkey holds four school track records (indoor mile, indoor 5,000, outdoor 3,000 steeplechase and 1,500) and concluded her running career with two gold medals at the Centennial Conference Championships (indoor 800 meters and outdoor 4x800 relay). She earned All-America honors at the NCAA Indoor Championships with a fifth-place finish in the mile. At the outdoor championships meet, Mullarkey posted an 11th place finish in the 3,000 meter steeplechase. She was also recently named ESPN the Magazine Academic All-America for women's track & field.
On the pitch, Mullarkey captained the Swarthmore women's soccer team to a second consecutive E.C.A.C. South Region Championship after becoming the first defender in Centennial Conference history to make First-Team All-Conference all four years. A three-time All-Region performer, Mullarkey was named Third Team ESPN the Magazine Academic All-America and Scholar Athlete by the National Soccer Coaches Association of America (N.S.C.A.A.).
A committee composed of representatives from NCAA member schools and conferences will select the Top 30 – 10 from each division – from the conference and independent nominees. The Top 30 will be announced in September and from the Top 30 honorees, nine finalists – three from each division – will be chosen. The NCAA Committee on Women's Athletics will select the national winner from the pool of nine finalists and announce the recipient during the 2009 Woman of the Year dinner.