Tired of organizing a Moodle course or organization page sequentially by weeks, or by topics in a list that scrolls down the page? Need to break out of your Moodle doldrums? Want a friendlier look to your Moodle course, or just something different to differentiate your course from others while were all working remotely? This Spring, we added a plug-in to Moodle that lets your organize your course as clickable "Tiles."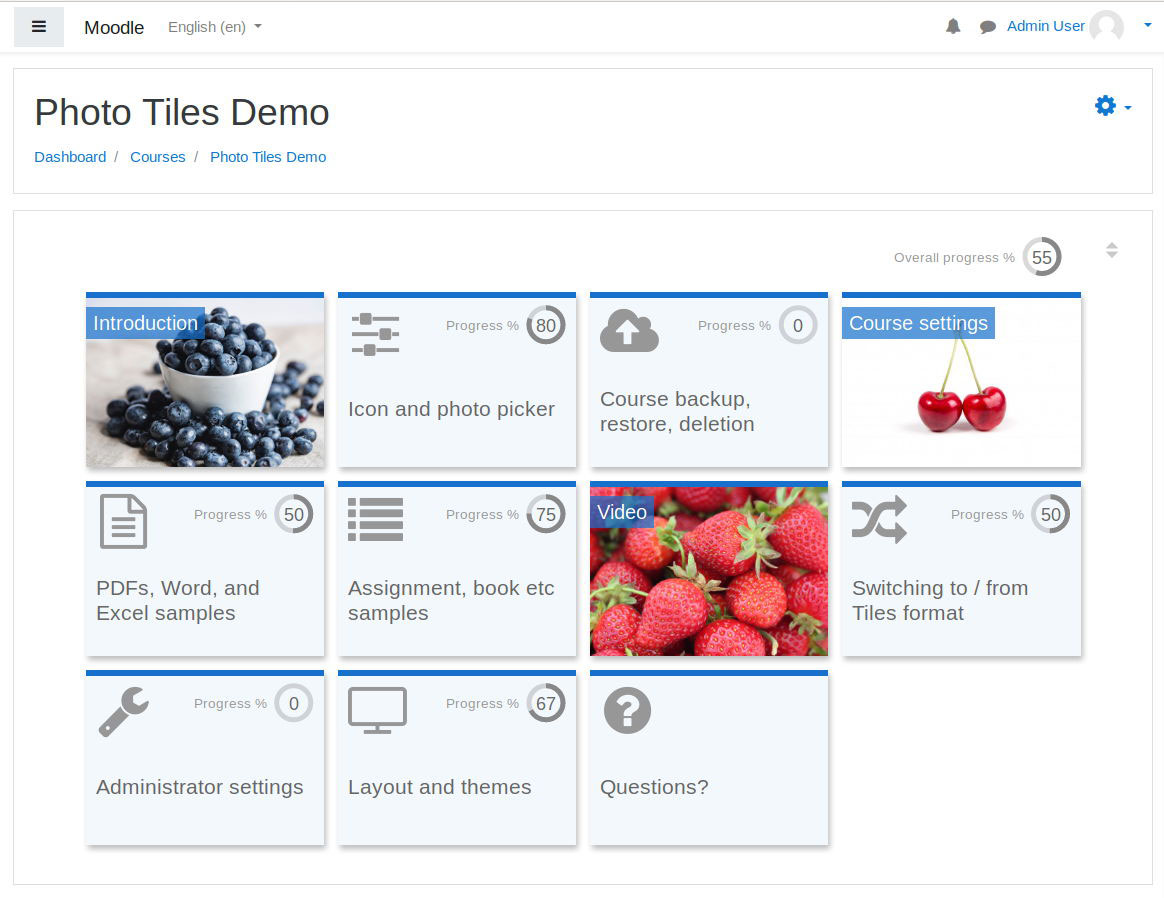 This look might be especially appropriate for organizations that don't have that sequential element to the content that needs to be shared with participants, or for courses that bring together disparate conceptual elements that don't necessarily organize as well in a set order. But it's available to all, and easy to try out.
This course format displays course topics as "Tiles", in a grid rather than as a list. When clicked, tile content is displayed under the tile with an animated transition. The layout adapts to different screen sizes and orientations. Within each tile, activities can also be set to display as "sub-tiles". For each tile, the teacher can pick an icon from a predefined set, or upload a background photo.
Some Key Features of Tiles:
Tiles are used to show topics and activities
Animation is used to expand tiles to reveal content
Icons or photos on each tile can increase visual appeal and indicate content
Modal windows (animated pop ups) to show content
Colours for tiles are customisable
Theme compatibility is broad (Boost, Clean, Essential, Moove and Adaptable – NOTE: We use the Boost theme).
Easy to switch into Tiles from other formats (e.g. Topics, Grid) without changing course content, if you want to try it
User friendly (e.g. tile icons are provided and don't need to be uploaded)
Mobile responsive (adapts to different screen sizes and orientations)
Progress shown on tile with % in a circle, or as a fraction
More information can be found about this plug-in here: https://moodle.org/plugins/view.php?plugin=format_tiles
And you can play with an example course here: https://evolutioncode.uk/moodle/course/view.php?id=3
For more information on how to work with Tiles, please contact a member of your Academic Technology team: support@swarthmore.edu.