Thursday, March 28th
2:00pm – 4:00pm
Location: Carriage House/LGBT Center
3907 Spruce St. (Walkway to the Center heads north from Spruce st.)
University of Pennsylvania, Philadelphia PA 19104
FREE AND OPEN TO THE PUBLIC!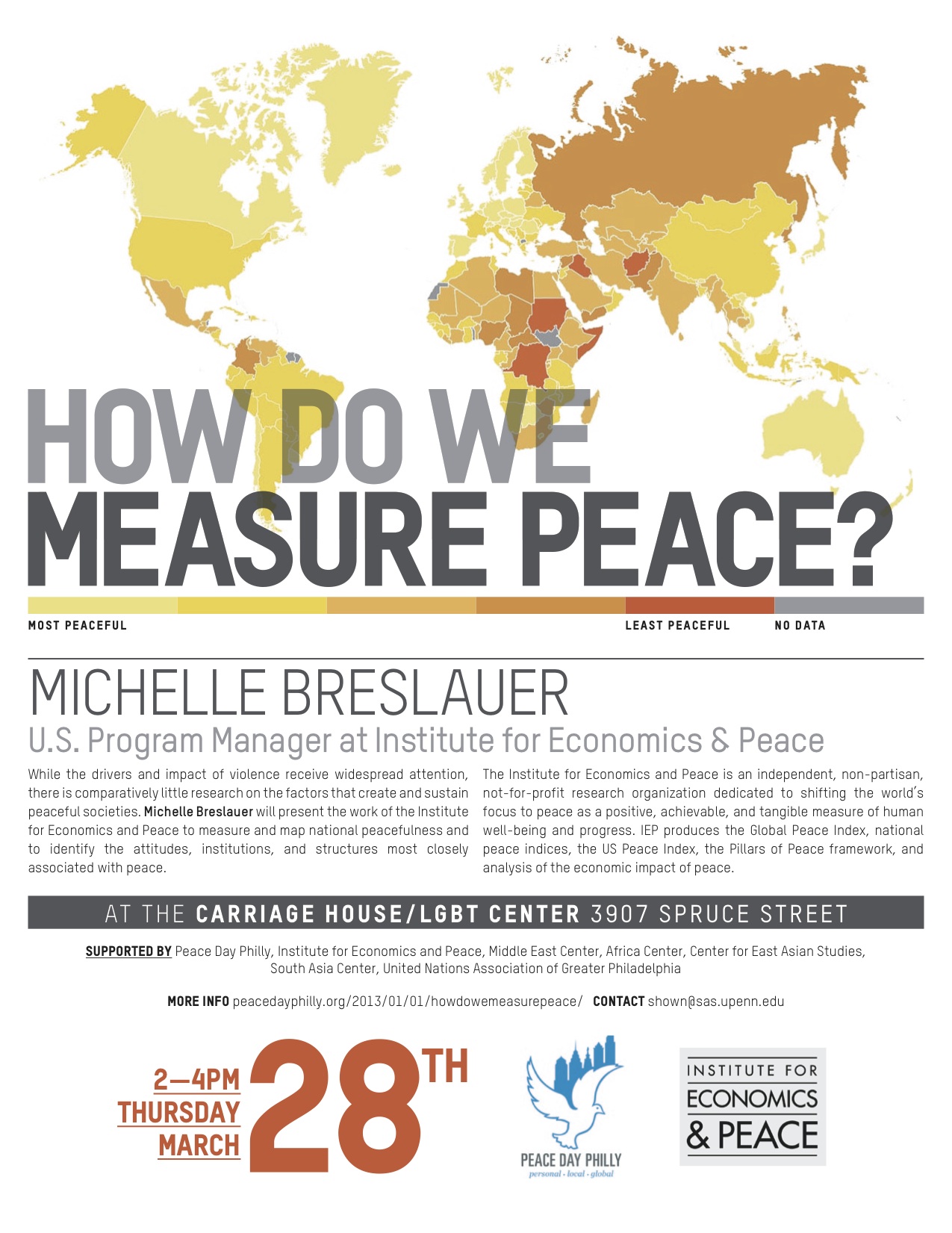 How Do We Measure Peace? The Pillars of Peace and the Global Peace Index
While the drivers and impact of violence receive widespread attention, there is comparatively little research on the factors that create and sustain peaceful societies. Michelle Breslauer will present the work of the Institute for Economics and Peace to measure and map national peacefulness and to identify the attitudes, institutions, and structures most closely associated with peace.
To download the Flier for this event, CLICK HERE
This special event is co-sponsored by: Peace Day Philly, the Institute for Economics and Peace, African Studies Center & Middle East Studies Center, Center for East Asian Studies & the South Asia Center, University of Pennsylvania and the UNA-GP
The Institute for Economics and Peace is an independent, non-partisan, not-for-profit research organization dedicated to shifting the world's focus to peace as a positive, achievable, and tangible measure of human well-being and progress. IEP produces the Global Peace Index, national peace indices such as the US Peace Index, the Pillars of Peace framework, and analysis of the economic impact of peace.
About the Speaker:
Michelle Breslauer represents the programs of the Institute for Economics and Peace (IEP) in the Americas, including IEP's US-focused research. Michelle has significant experience managing complex communication strategies on an international scale, including a 5-year tenure at the 9/11 Memorial & Museum at the World Trade Center. She has also consulted for various humanitarian initiatives, advising on strategic planning and external affairs for both public and private clients. She presents frequently to groups working in academia, policy, and international development. She has completed research around social capital and urban development for her master's degree from The London School of Economics. She also holds a bachelor's in International Affairs from the American University of Paris.
For more about the Institute for Economics and Peace, please visit theirWEBSITE
For their sister site, Vision of Humanity, and more about the GPI, CLICK HERE
Video overview video for the GLOBAL PEACE INDEX
Video overview for the U.S. PEACE INDEX